Wheels in Uganda - Day 2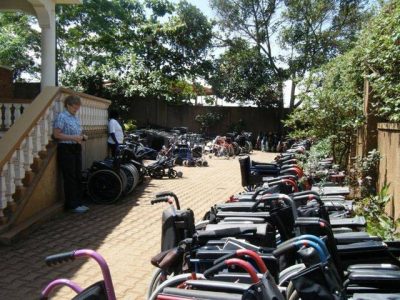 Friday 29th June, 2012

Day two... finally got some well needed sleep but started the day with a cold shower since its still waiting to be fixed, but thats ok it woke me up.
With breakfast out the way we set out to the RILD offices for the first day of distributing wheelchairs in Uganda.  The distribution location is across a fairly busy road on a bit of spare land which means we have to take the chairs across one by one but thankfully we have lots of help from the RILD team.
I spent some of the morning sorting out the chairs into the various sizes to make it easier whilst the OT's and Anna, who claims to be a physio (only joking), started work on the first of those to arrive.
For me the day went quite quickly actually, it was pretty varied for me, doing some filming in order to hopefully produce something watchable for Wheels, but also fixing and adjusting various chairs and crutches.
It's sometimes hard to actually remember individuals but there were various young children, some amputees and various people crawling who had all come hoping for a wheel chair or crutches and of course we would do what we could to help.   I do remember Glenda starting the day laying down the rules for the OT's/Physio in terms of the processes they needed to follow when giving out the chairs.  So the law was laid down.  On a serious note though everything is tracked and people are photographed then Gordon would share the Gospel and pray for them, so as things do get busy its important to have the processes in place.
Anna (yes the one disguised as a physio - please pray for me when she reads this!) did a fantastic job on her first day of her first Wheels trip.  The rest of the team (Mary, Helen, Pip and Glenda) are always there anyway and quite often fitting a chair requires a team effort.
The last chair of the day was one of those such cases.  Most of the team had some involvement including Roy who was trying to fit a young boy with cerebral palsy into a chair.  With various contractions it's not easy to get a chair to fit and in the end after trying one chair we managed to find one which was more suitable.  It all takes time though and we ran out of time as it was already after 6pm.  His mum and two sisters were incredibly patient whist we worked on the chair.
Half of the team had gone back to the hotel as we didn't have a minibus today so we had to make two trips.  That meant we had a little more time to sort out the chair though the boy will come back tomorrow for us to finish it off.
We packed up and headed back, with no time to get clean (or test out my shocking shower) we went straight in for dinner.  Digestive systems working over time we then had our team time and discussed the days events.  Glenda then decided to read out the blog from day one, she ended up tears just about, from laughter and not sadness, although I am not sure what I wrote that was so amusing - I just write it how I saw the day progress.
For example Pip wouldn't let us kill this enormous flying bug (despite a majority decision) as it could be an endangered moth.  Glenda had also brought a purposed made bug killer that looked like a tennis racket so I think we were looking forward to seeing it in action.  Pip insisted we would need to know what it was first, well Pip, when you had gone to bed we found out what it was - thats after Glenda had killed it with a rather exciting flash and sparking noise from her bug killer.  It wasn't endangered... well I guess that one was !
I shared with Anna that on day one I was struggling to remember some of the teams names (sorry Helen and Mary but don't worry I know them now).  Anna suggested that she would know I was writing about her in the blog if I simply referred to her as 'the Physio' (since Pip, Helen and Mary are OT's - occupational therapists for those like myself who wouldn't normally have a clue), but perhaps I'll just stick to "the one pretending to be a physio".
It's a great opportunity to be here and yet it his hard work so it's good to have some fun and laughter is a good way of letting out any stress.  Glenda pointed out that the trip was not a holiday for her and that she wasn't here to have fun.  I'll therefore point out to the Wheel's management back home that she seemed to be having some fun tonight so perhaps early retirement is in order, say later this year perhaps?
Of course in the day it's serious business and at the end of day two I am remembering one of the stories we talked about earlier:  An amputee, a young girl, had lost her legs after being run over by a train.  We weren't sure on how it had happened.  One story was she was running after her mother who was getting on the train and fell, but a much more saddening suggestion was made that her own mother had thrown her onto the tracks.  It's hard to take that in and it brings back memories from other wheels trips, in Kenya I remember a mother thinking about simply dumping her little girl who had aids because she just couldn't cope.
It's sobering to think that you just can't really do anything other than pray in these situations.  We will return back to our normal lives at some point and its simply not possible to affect those children's lives bar providing wheelchairs and praying that God will do what we can't.  So here's a challenge to all those who read this, please pray for the little girl in Uganda and that little girl I met in Kenya, doesn't need to be long or fancy but please pray that God will protect and transform their lives.
How do I follow that... I don't want you to be sad, I guess I just want us all to be grateful for the things we have however big or small.  I'll say night night, but remain grateful that we have a great team here and we will do what we can however small to help those we see in Uganda.