Wheels in Uganda 2012 - Phil's Blog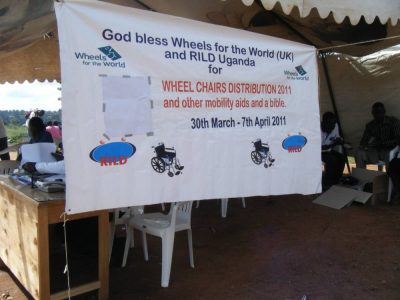 The Wheels team are working in Uganda from the 27th June to the 7th July. We'll be posting regular blog updates from team member, Phil Green. Thank you to Phil (and all the team!) for taking the time to keep us all up to date.
Thursday 28th June - Day 1
After two 6 hour flights traveling between London Heathrow via Doha then onto Uganda we landed. Not so bright but still very early.
Some managed to get some sleep on the plane, well, I think everyone bar Glenda and myself, I never sleep easily when traveling and this time was no exception. I did spend 2nd flight discussing war and peace (not really) with Anna who had just come back from Costa Rica just days before to join the team. When we eventually put the world to rights and shut up she dropped off like a light bulb. If only I was so lucky.
When we landed we were met at the airport by some of the RILD team who are hosting us and headed off to Rest Gardens where we were staying.
Bags unpacked (sort of) and a quick shave (for me not the ladies) and we were off into the city to get money exchanged and off for some food and mobile sim cards.
At this point the container still wasn't on the move to the distribution point but Glenda and Gordon went to the DHL office to find out what was going on. We were told it would be on its way shortly.
So we went off next to get the Bibles sorted, or so we thought. Glenda and Gordon again went off to sort things out whilst the OT's/ Physios and Roy were debating what seemed to me to the the inner workings of commodes. After 'bottoming' that one out we wondered if they were having to reprint the Bibles due to the delay.
It turned out there was some miscommunication and as such the Bibles which were requested just weren't available. (not till late July!) Thankfully another choice was available, but we needed to wait for the man with the key to the store room.
Eventually, we were told they would bring them to the RILD offices so we headed off yet again this time via another store who had some books suitable for children. Yet again Glenda and Gordon sorted out another issue whist the rest of the team discussed dental care and other critically important subjects whilst waiting patiently in the back of the mini-bus.
Pip was very good and abstained all my attempts to fill her with sugary sweets. Next we headed off to the distribution centre at the RILD offices to hopefully meet the container.
Kampala has some manic traffic issues so it took us some time to get to the offices but long story short(er) the container eventually turned up. The driver had a slightly eventful reversing maneuver by crashing into a wall and almost demolishing it. The wall belonged to a neighbor of RILD who had agreed to let us store the chairs there.
The wall remained in place but with some damage not fixable with duck tape and cable ties. So we started unloading the container although, we even had some rain to help us along. I ended up inside the container but ended up soaking wet, I promise it was down to hard work and it being pretty hot in there.
About an hour and a half later we had unloaded and we were ready to head off back to the hotel. The Bibles hadn't turned up at that time but we were exhausted and set off back.
We were all flagging but had showers and got refreshed for dinner.
I had a rather shocking shower, quite literally, as when I switched on the power to the shower unit it electrified the on/off tap. I wasn't quite sure what had hit me the first time so I decided to touch it again just to make sure! Doh. They will fix it tomorrow so a cold shower ended up refreshing me.
I think some of us could have fallen asleep on our food, it's been a pretty exhausting day in all.
So that's day one. Off to bed now once I send this first day report in and hopefully I'll be refreshed for Day 2 which will be our first day here distributing wheel chairs. The team's been great so far and I'm praying that we will have smoother sailing tomorrow... so night for now.