Integr8 Videos from Guatemala 2011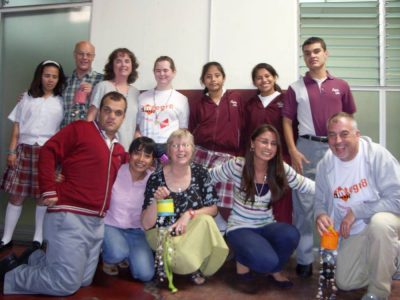 Here are a few videos from Integr8's mission trip to Guatemala in 2011.
The first clip is a selection of short moments from Integr8's 2011 trip to Guatemala. During the video, Alan talks about the work of Through the Roof and Integr8, there are inclusive parachute games and stories, Philippa talks a little about her own experiences, and Alice leads workshops on including disabled young people in education.
In the second clip, team member Alice leads a workshop on working with young disabled people in education as part of the 2011 Integr8 mission to Guatemala. This is just a section of the full workshop, but shows a few techniques for involving young people with a range of disabilities.
This next clip features a parachute bible story in Guatemala. Parachute bible stories teach bible stories in fun and memorable ways that are accessible to all. Great for learning stories, and as inclusive games.
The final clip demonstrates an inclusive game for use in classrooms and groups. In the first half, Integr8 team leader Alan teaches the game to teachers at the Vida y Esperanza school in Santa Lucio. In the second part, a group of students and teachers from the America Latina school take part in a game.