Stephie's Blog - Nakuru Days 2 and 3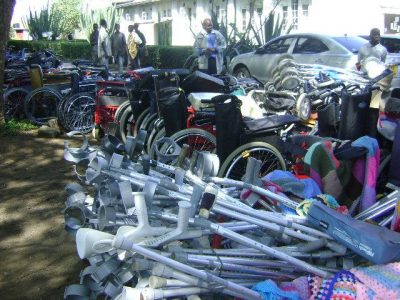 Day 2
We set off at 8:15 to walk to the centre. When we got there, we carried some tent poles to a grass area and the team put up a large tent for us to work in. The centre has a big room where we had laid out all the wheelchairs the day before but the lights don't work so it was impossible to fit and adjust the wheelchairs there. We are all going to be super fit by the end of our stay, running to and fro between the tent and the dark hall.

At first only 2 mothers had come carrying their disabled children on there backs. Then out of the blue, a bus load of people came, then more and more- we knew we had a busy day ahead! The first little boy to be seen was called Isaac. He was 4 years old and and his mother wanted him to have a walking frame but when one of the therapists tried to fit him with a frame, his legs were so weak that he flopped down and the frame dug into his arms. This would have caused much more damage to his body so we had to find a more suitable solution . He was fitted with a great kiddy wheelchair and was so happy when he went away with his new chair and a bright knitted teddybear.

There was a beautiful little 18 month old girl called Grace and she was brought by her mother. Grace has rickets and was also born with no arms, just one thumb. All the children's wheelchairs were far too big then suddenly Pam remembered there was a pram- like "snug seat". After a few adjustments it fitted her perfectly. She also told the mum to try to put clothes on Grace that kept her stumps free so that she could start learning to use her one thumb. Grace had 7 siblings- her mum was so grateful but life must be pretty hard.

I was really sad to here the story of another little girl whose grandmother is bringing her up as her mum walked out on her when she realised that she had a disabled child and has never come back. While she was being fitted with a wheelchair, her 12 year old aunt asked if she could have a Bible. It was so lovely as she was so enthusiastic and happy. Gordon was delighted to find that each time he thought he had given out the last children's bible, there was always another. Many people also needed crutches and other walking aids and it was a busy time trying to help everyone.

Lunch was an adventure! Peter from Tegemeo (the disability group that helped arrange the distribution with Wheels for the World), took me and Alexa to the supermarket. This involved running to keep up with him as he sped off on his hand- cranked tricycle up the road to Nakuru town and we tried to keep up with him whilst also avoiding the pot holes, corn sellers and mad traffic (especially the 3- wheeled tuk-tuks!). We headed back with sandwich kit for the team who grabbed a bite to eat the set back to work again.

The afternoon was still busy with many to help, but as the rain descended and we sheltered under the tent the last few wheelchairs and crutches were fitted 43 in total- it was the end of another very long day.
We've had a great day today and can't wait til tomorrow...
Day 3
Fueled by a breakfast of sausages and passion fruit juice (I turned down the avocado juice!) we headed back to start work at the Catholic centre at 8.30am.

There was a boy called Victor aged 7 who was disabled from polio. He had had to travel 2 hours with his dad by bus to reach us. He was fitted with one of the great news kids chairs that had been donated in the UK. We cut and taped extra pads to support his sides so that he didn't flop over. We added a tray made by the great DIY man Roy.

Then we saw a girl called Lucy who was 8 and had a lot of problems. Her mum said she had to eat special foods such as pumpkin, she couldn't take liquids on their own but only with a solid and needed a lot of medication every day. She was so happy to receive a wheelchair and of course a knitted teddy.

Emanuel was a lovely 6 year old boy who had mild cerebral palsy and Caroline decided he should have a self- propelling wheelchair as although his arms and legs were weak, he would build up strength in his arms, the more he propelled himself. He got the hang of it very quickly. His mum asked if we had any shoes for him so I measured his feet and found some bright red open toe boots. His face lit up when he saw them as his mum said he loved red and he kept sticking his feet in the air to show them off and giving us high 5s! He was such a happy little boy and will always stick in my mind.

Two sisters were brought by a neighbour and an aunt who are having to care for them as their mum is in hospital as she struggling with HIV. It is so sad to see so many children whose mothers aren't around. We also saw another child today who was abandoned by her mother when the mother realised she had a disabled child- once again the grandma is doing her best but life is tough. At least we could help by giving a wheelchair.

We were so lucky in the afternoon as Pastor Davis had managed to arrange for us to have a free afternoon's safari in the Lake Nakuru National Park just down the road. It was the most amazing experience as we saw lions, zebra, white rhinos and giraffes, not to mention the baboons that tried to climb inside the van! But we thought we might end up there for the night when we hit a huge hole in the road and the broke down. Fortunately we got towed out far enough to restart and make it back to the hotel for fellowship and supper. We'll sleep well again tonight!