Stephi's Blog (Wheels in Nakuru) - Day one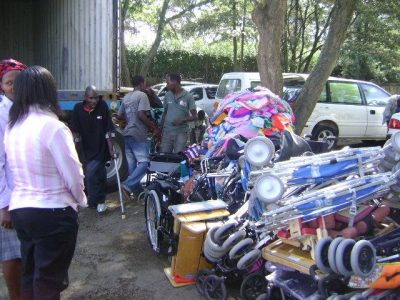 Our youngest Wheels for the World team member, teenager Stephi, is writing about her experiences in Nakuru, Kenya, whilst on a wheelchair distribution trip - we hope you enjoy reading what she has to say!
The whole team met up at Heathrow, that's Glenda, Eileen, Pam, Caroline, Linda, Roy, Gordon, Helen, Brenda, Alexa and me, Stephi, as finally our Kenya trip was starting.

After a long 8 hours flight, our wait was over and we touched down in the capital Nairobi. Alexa and I nearly lost the team by finding an alternative route to passport control but they retrieved us and our bags and we headed on the waiting minibus to our destination Nakuru. We saw our first African game- well actually they were steel elephants on the roundabout but we were excited!

We watched with intrigue while Kenyan drivers queue jumped by heading down a ditch and across the fields to avoid the horrendous traffic jams. We had our first glimpse of Kenyan life, very poor and loads of market stalls, wandering goats and donkey carts. Finally, the road cleared and we headed on to Nakuru via The Rift Valley. We all tried not to nod off as various team members spotted zebra, gazelles, baboons and warthogs in the distance. We arrived at Chester hotel after 4 and a half hours in the minibus. It is basic but clean and welcoming.

After lunch we walked down the crowded and increasingly muddy streets of Nakuru as the heavens opened to welcome the Brits with a proper tropical storm. At the Catholic Diocese church centre, our local friends Richard, Peter and Pastor Davis introduced us to many locals who were so happy and grateful for the work of Wheels for the World - it was really humbling. Then we ran through the rain to where all the wheelchairs were stacked high and unloaded and sorted them all into sizes ready to start the distribution tomorrow. What a day! The people of Kenya are so kind and welcoming and happy to make friends.

Thank you Lord for this opportunity to serve.