Summer 2011 Vital Link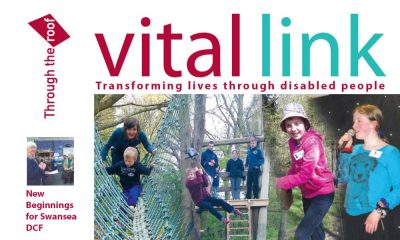 Our Summer 2011 Vital Link is now available to download in PDF format. Download it here, and please let us know if you'd like to be alerted about each new issue by email.
Amazing Fundraising by The City of London Freemen's School, Ashtead.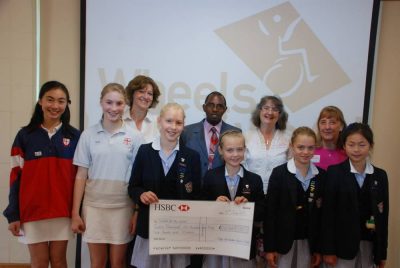 Each academic year, City of London Freemen's Junior School, in Ashtead, Surrey, supports a charity.  The charities are presented by the pupils and voted for by the pupils.  Six young ladies, Stephanie Elstub and her sister Emily and school friends Grace, Alicia, Olivia and Emily, gave a Powerpoint presentation of Wheels for the World  to their classes.  They showed slides they designed themselves which included photos of wheelchair recipients and the prison workshop.  After winning the vote they then went on to present the charity to their year groups and finally the whole junior school, who chose Wheels for the World as their charity for the year.
Various fundraising events were held including talent contests, cake stalls and a sponsored book read, generously supported by pupils, teachers and parents.
Stephanie  Elstub (second from the left in the photo)  will be joining the Wheels for the World team travelling to Nakuru in September to help in the distribution of 160 wheelchairs and other mobility aids.  Stephanie will be the youngest team member, accompanied by her Mum, Alexa.
Karen Goodridge, Volunteer Community Fundraiser,  Glenda Pike, Wheels for the World Co-ordinator and Pastor Davis Gatua from Nakuru, Kenya recently had the privilege of accepting a cheque for £12,669.13 (The total raised is now just over £13,000) from pupils at Freemen's School  which was the result of their Junior School charity for the year fundraising.
The Day I was Challenged by a Prisoner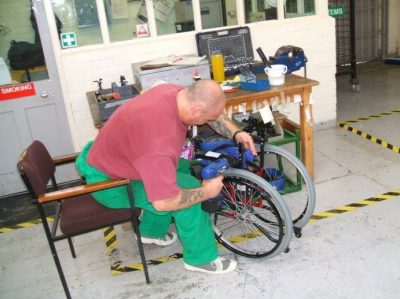 By Tim Wood
I've never been to prison before, so I didn't know what to expect when I visited Parkhurst, on the Isle of Wight. Having recently taken on the role of Chief Executive of Through the Roof, I was keen to see our wheelchair refurbishment workshop for our overseas programme – Wheels for the World, which demonstrates God's love by providing mobility to disabled people in developing countries.
Turning into the car park, with our programme co-ordinator, and two donors, we were faced with a looming, bleak concrete wall, not dissimilar to the old Berlin Wall. Once through the locks and inside the walls, however, we were greeted by a beautiful cultivated, courtyard garden – an oasis of green against the grey.
In the workshop inmates delighted in showing us the fruits of their labour. They talked passionately of how every wheelchair is lovingly restored by hand, from scrap to new. The Prison Officer told us how the men gain an Open College Network qualification in wheelchair maintenance – a certificate of Employability – to give them hope of a job when they leave.
From their latest innovation of welding a bike to a chair to form a 'trike', to the careful spray-painting of each part, to the nicknamed 'MOT-inspector' who ensures nothing leaves without his quality stamp of approval – every man visibly brimmed with pride in their work. And then it struck me – I was challenged because so few people will witness what these dozen men produced, and yet they gave their work their all, 100%, total dedication. Not for the reward of £10 per week, but because it is a natural innate expression of themselves, a reflection of God's glory as Creator and Redeemer.
I don't know the spiritual 'status' of those men and whether they are conscious of God or not, but I do know that as a professing Christian I have no excuse not to give my all to the One I know delights in all His children – whether disabled or not; prisoner or free.
Wheels Garden Party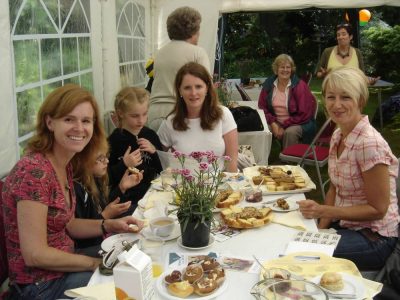 Everyone's welcome to a Summer Garden Party to be held in Ashtead (Surrey) on Friday 26th August from 2.00pm. There will be tea, cakes, scones and items for sale, all raising money for Wheels for the World.
Tickets £5 (in advance) - please contact Karen for tickets / further details 01372 270983
Innovative Parachute Resource Includes All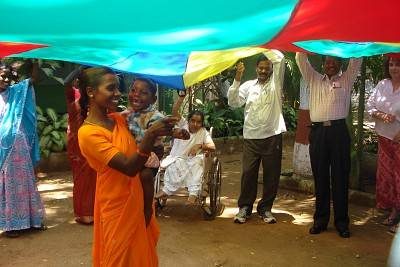 "We were wondering what is 'Parachute Bible Stories', and now we see!" remarked my Ukrainian colleague. I had just delivered a training workshop for counterparts from disability ministries in Europe, and Sirghy was very enthusiastic. "It is very good. We will definitely use them in our summer camps for disabled children."
Parachute Bible Stories are innovative resources for churches, schools, and families written as part of Through the Roof's Integr8 programme. They teach Bible stories in new, fun and memorable ways that are enjoyable and accessible to people of all abilities.
Last week trainee Children and Youth Workers benefited from a Parachute Bible session, agreeing it was very appropriate for including all abilities. Through the Roof will also be delivering the highly interactive workshop to delegates attending the Children's and Family Ministry conference, February 2012.
If you can't wait until then, why not download some of the stories free by following this link or book a training workshop from TTR to equip your youth and children's workers.