Nyeri, Kenya 2010 - Day 8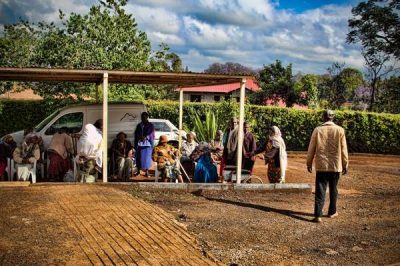 By Wheels team member, Phil Green...
The longest day !
Where do I start... Eeek. I have been heartbroken today several times for various reasons, but the day started at the now normal time of 8:30 and there were people already lined up waiting for chairs.
We were constantly busy through the morning but things got even busier in the afternoon as more and more people turned up. It seemed like the message had just got out that we had arrived and you can almost picture a car boot sale type environment. Through the week many of those that didn't register which is a real shame, but for those who didn't register there were at least 2 people that turned up anyway.
We eventually did run out of children's chairs and eventually had to turn some away. That was heartbreaking. It's also heartbreaking some of the children that we did give chairs too. I often hold back the tears and just get on with the job but it's after when I reflect on it that I am often overcome with sadness.
I feel helpless really, I know I am reminded that we are making a difference but for me and the person I am it's often hard for me to see that no matter how hard I work or how many chairs I fix or modify.
Maureen had a lad that was almost stretched out like a board we presume with cerebral palsy. In the UK Maureen said to me that it wouldn't ever get that bad as we had so many more medical options. Wilson was his name and he often would smile at us. We did what we could with fitting him in a chair it wasn't idea but it was the best we could do. His neck was almost 90 degrees to his body so he would spend many a day looking at the sky. Prayer again was the only other thing we can and could do.
It's not just the children and one chap who came in, well I should say crawled in, pulled a heart string. He was looking for a 3 wheeler chair which is chain driven. Imagine bike pedals on a bike's handle bar which drives the front wheel and steers. I have seen a few he and also also last year in Ghana. We don't have those however and he didn't want a normal chair. He asked if we could do anything to help his knees.
His knees were hard and calloused and he wondered if we could do anything to help. I couldn't imagine crawling round the UK on my knees let alone here where there are no pavements or in many cases roads but there are many rocks and stones.
We looked at various things but we struggled to find a way of fixing anything to his legs. I had so kneepads on and would have loved to give them to him but they didn't fit. In the end all we could suggest was he try and find some old car tyres and use them in combination with the straps and foam we gave him. He had asked if we had anything for his hands and so I was able to give away a pair of work gloves I had. I still felt again helpless. In my heart I was desperate to do more. In the end I did what I should do more and prayed for him. God's a much better wheelchair and people fixer than I'll ever be and I am grateful for that. Perhaps it's a lesson for me in faith. i.e. Must have more !
I went on to help another chap with some callipers. Those who don't know what they are they are essentially braces used on the legs like a skeletal metal frame. I'm not an expert of course. I did what I could to help fix them but as some of the metal was broken we had nothing to repair it as we don't have welding equipment. Again prayer was my only answer here. He did say he may be able to find a place who could weld so I explained what I think could be done to repair it.
As the day went on the queue seemed to get longer and longer and at about 4/5 pm there were still about 30 people in line from what I understand.
The sun went down and yet still we carried on. Finding wheel chairs in the dark isn't easy !
In the end as the last people left strapping wheelchairs to the tops of cars, Brian, Roy and myself were the last of the team there and we stood looking at the stars waiting for Jane to return to take us back to the guest house. It was 8:35 when we checked our watches on the way back.
We reflected in the day over dinner and our evening meeting. Lots if things came into my head .... Too many really and I was exhausted and overwhelmed. At the same time I have been heartbroken with something at home and I felt broken. But maybe that's what God wanted (I'm fairly sure of it now) I need to rely on him and not on myself.
I struggle to let go of things too so when I see such need my heart is always affected but I struggle with it and I guess feel guilty in some way. It's a fine balance to find for me being compassionate without feeling completely helpless or guilty.
Glenda and I were up till about 12 and as always she's great to me and really helped me with what I was feeling and struggling with. So the day was a long one.
I'll write a summary tomorrow of day 9 probably at the airport but please pray for our safe return to the UK.
Glenda and I will sort some chairs out in the morning and the rest of the team are off to Nairobi shopping where we will meet them later.
It's going to be another long day.