Nyeri, Kenya 2010 - Day 7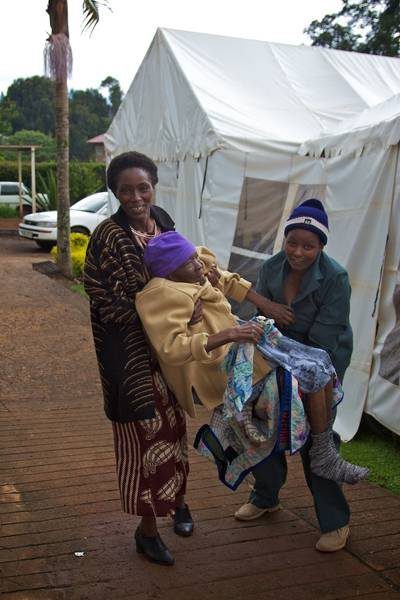 An emotional blog today, from Wheels team member Phil Green:
It's been really hard today both physically and emotionally for myself as well as others.
There were a lot of children today and it's a lot to deal with. I often found myself close to tears during the day but managed to keep going.
We finished at almost 7pm today and by that time I couldn't keep back the tears.
The combination of being exhausted and seeing those children was just too much for me.  Some other things were also bothering me and it reminds us that even when you're out on a trip life doesn't stop at home and sometimes you have to deal with things from thousands of miles away.
I got even more upset when Glenda had explained about a little girl near the end of the day that Rachel was helping.  She was tiny for her age and was HIV positive.  From what I understand her mother had suggested she was going to leave the little girl as she couldn't cope. Thankfully she didn't but it blew my mind just thinking about the situation.
Rachel was obviously upset by this and it again reminds me of the needs of some of the people here in Kenya.
Sometimes it's really challenging for me as a Christian to deal with the things I see.  Yes deep down I know God's in control but it makes me wonder and question what's gone wrong. Yes I know it's not God's fault, it's the sin of man but I hope you understand what i mean. I am just praying for that child and I want to see miracles.
We went out for dinner with the board of directors for the hospice and got back quite late so I'll try and keep this a short update:
The team really did an incredible job today.   I believe there were about 71 people we saw today up on the average of around 50.  Roy was mastering the art of wood work again and for the first time we had to recharge the cordless drill in the middle of the day, which shows how much we used it today.
It's a privilege to work with such a team who gets on with things as best they can with what they have available. The choice of wheelchairs is now very restricted as we only have certain sizes of chairs left. I am praying we won't have many children tomorrow as we don't have many children's chairs left.
Glenda had one gentleman who really needed a reclining chair and of course God provided that one chair (the only recliner we had) so I have to keep faith in Hhim. I need to think more about God's plan and will and less about mine.
Right it's 11:45pm so that's my update for today.
Our last day of the distribution tomorrow then Friday will be packing up and flying back home.
Thanks for those praying for the team... They are really appreciated.