Nyeri, Kenya 2010 -- Day 6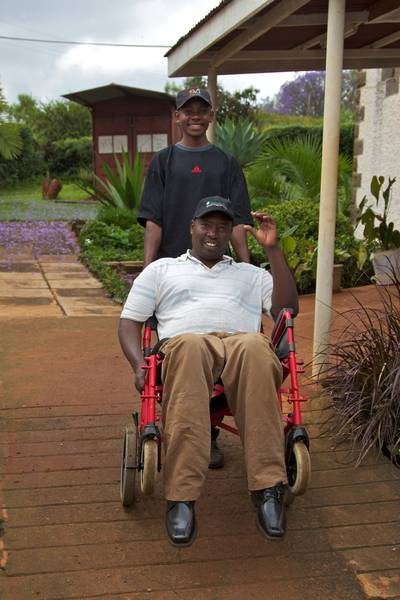 Day 6 already. Still not sure what day or time it is half the time but the time seems to fly by even though we are starting at about 8:30 and finishing after 6. We are so busy through the day that you lose track of time.
We have had around 51 wheel chairs out the door today. We are finding that some of those registered have not been turning up but others who haven't registered are turning up. I was thinking that it's such a shame for those that have registered if they miss out on a chair. There has been heavy rain in the area and we know that some people have struggled to get to the hospice where we are based, so that could well be one of the reasons.
Glenda returned today and was telling us about her time away. She had a variety of meetings and engagements and for one she had to wait for hours for one dignitary. That's seems to be African timekeeping again.
She mentioned at one event where she was speaking there was another group there called the jolly blind group, and even though its sad we had to smile at the name and I was hoping they were jolly and blind and not just jolly blind.
In all seriousness though I have been touched by lots of things that I see and hear. Whilst I may not show it that openly I have shed more than one tear here. ( and another few just now writing this ) Writing this blog reminds me of why I am here as even though my life is in a bit of a muddle at the moment back at home, I just want to help people who are less fortunate that me. I'm divorced and don't have children but I love kids and that's what really touches me the most.
We have been talking about why we are here, no not here on earth, but why we are on the trip. I have thought about why I am here quite deeply although I am still not 100% sure. Is there some selfishness in it... Maybe.. I like helping people. Some may say that's selflessness but if it gives you a buzz then maybe it's not.
For me being real about it, I love to help people if I can in a practical way. I was blessed in being born in the UK and having a good up bringing, is that just luck I don't know but I know that I am grateful to God for it ( I should thank him more though!). I'm not a preacher and far from being a saint but at least I can do something practical to help. That's what the team are doing bringing practical skills and doing what we can to help.
We see stuff about Africa and other other countries in need on the news quite often but when you see things for real it's different, you really believe it. Well I do anyway.
I know Glenda was saddened by what she saw yesterday and it's another thing about Wheels trips, you need to prepare for the emotional element. For me at least it's tough. Perhaps that's another reason to come, to humble yourself.
All but Gunn were brilliant again. Gunn on the other hand was amazing ( there's an in house joke in that so if you know Gunn you can ask her when she gets back).
There were some challenging modifications for some chairs today but the wood that Roy procured the other day has really helped. The tools we have brought with us have really helped too.
At the end of the day one lady had an old wheel chair and we didn't have a chair that was ideal for her. However rather than being disheartened she simply said not to worry she would wait till next time. Even when we said that could be a year or two, she simply said she would be OK as she had faith. There was my lesson for today in faithfulness !
Right.. It's time for bed now as it's 10:15 here and we have the same early-ish start.
If you're praying for us, please pray for Maureen as she's a little under the weather and came home early to get some rest. I'm praying that she will be recovered for the morning.