Is there a place for me?
For anyone not able to make it to the Enabling Church Conference in October (or for anyone who wants more!) Through the Roof is taking part in a one day event in Oxford and would love to see you there:
What?
Including people with learning disabilities in the life of the Church - A resource day for clergy and other church leaders; people with learning disabilities; family, friends and carers, and professionals in the field of learning disabilities.
When?
Thursday 4 November 2010, 9.15 am – 3.30 pm
Where?
CMS, Watlington Road, Oxford OX4 6BZ
Cost?
£25 (waged), £10 (unwaged), including lunch and refreshments
For further information contact Wendy Bryant
A Visit From America Latina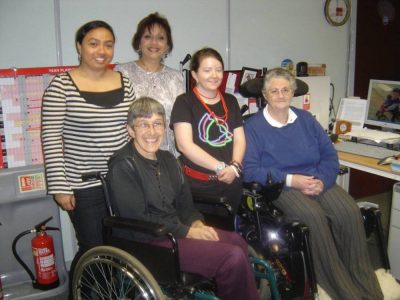 Bellita and Liza of America Latina School and Ministries, our Integr8 partners in Guatemala, met with staff and volunteers at the TTR offices on 14th September while on a UK visit to raise funds and awareness for their work.
They shared about their pioneering work as the first school in their country to be recognised by the government to include disabled students. Bellita, General Director, thanked Through the Roof for their work and for the Integr8 teams to Guatemala for helping change attitudes in churches about disabled people. Find out more about the Integr8 trip at www.youth.throughtheroof.org and about America Latina at www.worldshare.org.uk.
Haiti Recce
In seven seconds a 7.0 magnitude earthquake devastated Haiti resulting in 230,000 deaths and millions of Haitians homeless and injured.  According to the United Nations, Haiti is the poorest country in the Western hemisphere where it is estimated that nearly 80 percent of the population live on less than $2 per day.
There is a great need for wheelchairs.
Between September 14th and 24th Glenda Pike (our Wheels for the World Co-ordinator) will be on her travels once more, this time visiting Haiti in order to assess the feasibility of sending a container of our wheelchairs and a Wheels team to fit the chairs.
Glenda will be accompanied by Derek Watts, a wheelchair technician living in Chicago, and will work alongside Medical Teams International based at Les Cayes, and other organisations already working with disabled people in the country.
Please pray for:
No flight disruptions
Good relationship with local Christians
Health, safety and stamina
Protection when travelling
Opportunities to meet other organisations working within Haiti
Sensitivity to each situation
Clarity through interpreters and wisdom to know the next step