Welcome to DCF Ribble Valley!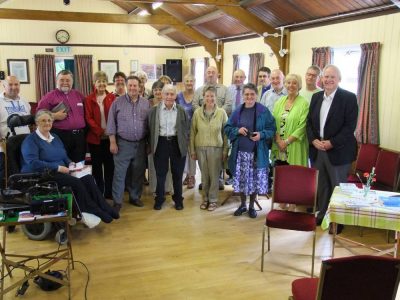 DCF Coordinator Jenny Edwards headed north recently to attend the launch meeting of the new DCF Ribble Valley group.  The meeting was well attended, and all were encouraged and excited at the prospect of starting their regular monthly meetings.
DCF Ribble Valley will be meeting at The Rimington Institute, Clitheroe,  on the first Saturday of every month, starting in September 2010.
If you would like to know more about becoming a member, or would be interested in helping the group in any way, please contact Edith Isaacs on 01772 436 714.
Vital Link July 2010
Our July Vital Link is now available in PDF format. Download it here, and please let us know if you'd like to be alerted about each new issue by email.
A Triathalon for Haiti
Geoff Mace from Worcester Park recently ran, swam and biked a Triathlon to raise money for Wheels4Haiti. The event was a Sprint Triathlon, consisting of a 400 metre swim, followed by a 20 km cycle and then a 5km run. Geoff ran successfully, raising £500, though, as you can see on the left, his trainers didn't quite survive.
Geoff wrote, "I've raised money for the Through the Roof Wheels4Haiti appeal. Following the horrific injuries sustained during the Earthquake in January, there were many people left immobile."
"I've set up a donation page on JustGiving, at www.justgiving.com/Geoff-Mace".
"Donating through JustGiving is simple, fast and totally secure. Your details are safe with JustGiving they'll never sell them on or send unwanted emails. Once you donate, they'll send your money directly to the charity and make sure Gift Aid is reclaimed on every eligible donation by a UK taxpayer. So it's the most efficient way to donate - I raise more, whilst saving time and cutting costs for the charity. So please dig deep and donate now."
Amazing Grace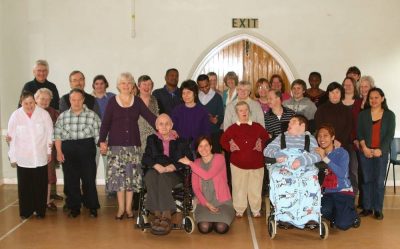 Members of the Friends of Jesus group, Holy Trinity Church Redhill, have not allowed their own learning disabilities to prevent them from helping other disabled people.  The group spent several months planning their 'Amazing Grace' fundraising evening which was held in June to raise money for TTR's Wheels for the World programme.  The evening included drama and music and was also attended by Wheels team member, Eileen Sutherland.
Including Gift Aid reclaimed from donations, Friends of Jesus will have raised the brilliant total of £4019 to benefit our overseas work.  Members from the group commented on how much they enjoyed their special event, and members of the team say that it was a joy to be involved - they were particularly encouraged by the willingness of numerous people to give their help and support.   One team member commented that whilst being hard work at times, the event as a whole had been a real blessing.
If your church group would like to raise money for Wheels for the World or any of Through the Roof's other programmes we'd love to hear from you!  Email info@throughtheroof.org