'The Lounge @ TTR' - December 7th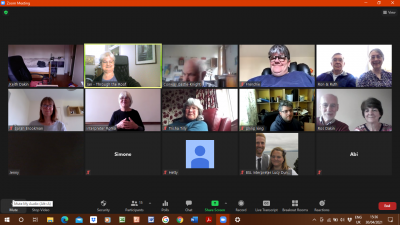 Join us in 'The Lounge @ TTR' on December 7th for a cuppa and a chat!
Date: Tuesday December 7th 2021
Time: 3:00 - 4:00 pm
Where: 'The Lounge @ TTR' (via Zoom link)
Cost: Free
How to join: Email jan@throughtheroof.org by Monday, December 6th to register for the link
Access: If you have specific accessibility needs, please get in touch as soon as possible and we will do our best to help. We will have captions switched on.
We are delighted to invite you to pop in for some company and conversation at 'The Lounge @ TTR'. Join us for an hour via Zoom to catch up with existing friends, and maybe even make new ones.
Sign up for the Zoom meeting link by Monday 6th December if you would like to join us.
In 'The Lounge' this time, we have with us Keith Dakin who will be leading the devotional/word of encouragement for the day (Keith, who many of you know as Ros's husband, has ministered to us at our online retreats and is a regular visitor to 'The Lounge'). We will be blessed too to have Ros, Ron & Ruth Hollands, and Suzanne and Jan from Through the Roof.
Please email jan@throughtheroof.org to sign up today – we look forward to having you with us. You will receive the Zoom link a day or two beforehand.
For those of you who like to plan ahead, the 'New Year' visit to 'The Lounge @ TTR' is scheduled for Tuesday 18th January 2022. Mike Townsend, the Chairman of Through the Roof board of Trustees, will be bringing our closing thoughts as we embrace a new year.